In Australia and New Zealand, a whopping 1.2 billion disposable coffee cups are used every year – that's a whole lot of waste! But here's the solution: reusable coffee cups. They're not just about a caffeine fix; they're your business's green passport. These cups don't just hold beverages; they hold your brand, values, and a greener future.
The shift towards sustainability has spurred a movement towards reusable coffee cups, offering not just a way to enjoy your favourite brew but also a platform for brands to make a positive impact. Cafes, businesses, and individuals are embracing these eco-friendly vessels as more than just a convenient choice; they're becoming a powerful promotional tool that conveys values and leaves a lasting impression.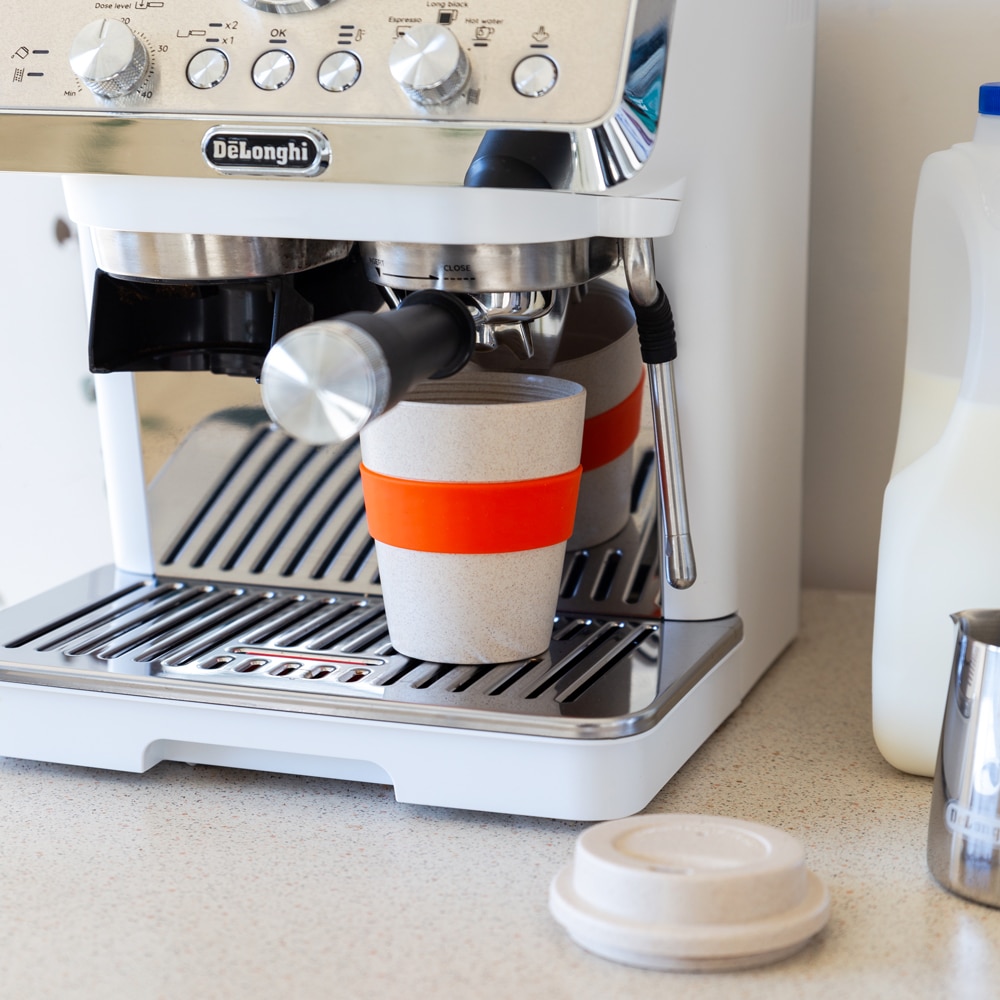 To help you figure out the right cup for you amongst the myriad of options, Positive Signs + Print have collated some information to help. Browse our 2023 Reusable Coffee Cup Brochure here, or keep reading on for more information on the reusable coffee cup options, and our Coffee Cup Frequently Asked Questions.
Coffee Cup Construction
With so many options to choose from, the best place to start is by narrowing down what construction suits you best.
Factors like your budget, insulation requirements, and design preferences should be considered. Each design element serves a purpose and holds different opportunities for branding. Single Wall Cups are lightweight and cost-effective, while Double Wall and Vacuum Insulated Cups offer better temperature retention but tend to be a bit dearer.
Single Wall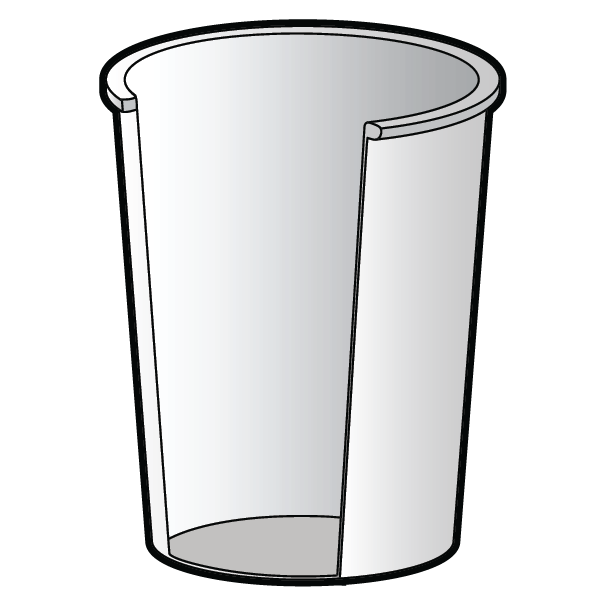 Single Wall Cups are an affordable, lightweight and compact coffee cup option. A heat-resistant silicone or cork band ensures the cup is comfortable to hold and provides a perfect branding opportunity.
See below for some examples of single wall coffee cups:
Double Wall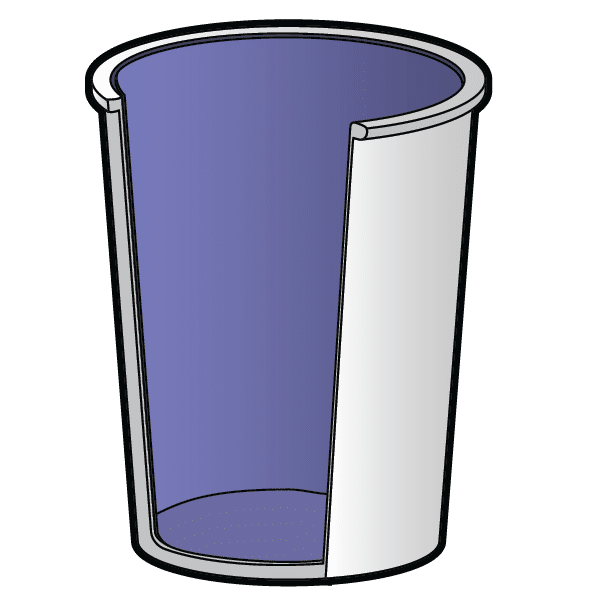 Coffee cups with double wall construction are an economical way to insulate your beverage. The cup is designed to trap air between an internal and external wall. Air has excellent insulation properties and reduces the rate of temperature change. The outside of the cup remains comfortable to hold, and there is no messy condensation from cold drinks.
See below for examples of Double Wall Coffee Cups:
Vacuum Insulated
When it comes to maintaining drink temperatures it's hard to beat a vacuum insulated cup. These cups have the same construction as double walled cups, but the air is removed between the two walls to create a vacuum. A vacuum reduces the rate of temperature change significantly, keeping the outside of the cup cool and preventing messy condensation from cold drinks.
See below for examples of Vacuum Insulated Coffee Cups:
Coffee Cup Printing Options
It is your logo that adds the finishing flourish. The printing options available are as diverse as the designs themselves, offering businesses a spectrum of ways to imprint their values and logos.
We typically weigh up your logo type and colours, cost effectiveness and your requirements when we recommend a printing method. Discover the advantages of each technique below:
Pad Print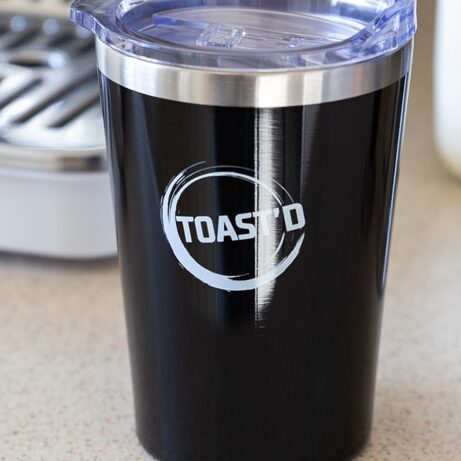 Pad Printing uses a silicone pad to transfer an image to a product from a laser etched printing plate. It is one of the most popular, fast and affordable ways of branding products due to its ability to reproduce images on uneven or curved products and print multiple colours.
Close colour matches are more difficult on darker products and will only be approximate. In these instances, a white base will create a better print (at an additional cost)
Screen Print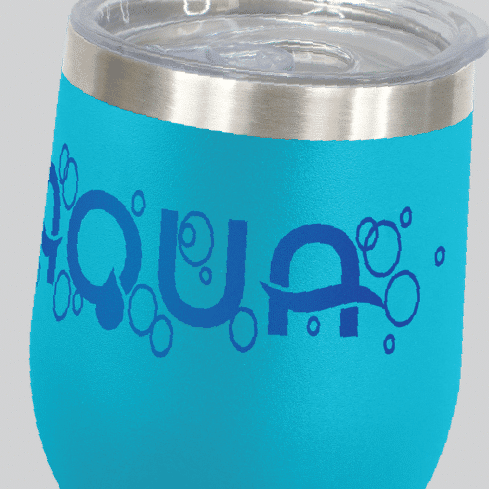 Screen printing is achieved by forcing ink through a fine mesh screen onto the product and is ideal for cylindrical objects. This branding is perfect for larger branding areas and for bold, colourful artwork, letting your brand shine through.
Close colour matches are more difficult on darker products and will only be approximate. In these instances, a white base will create a better print (at an additional cost)
Laser Engraving
Laser engraving uses a laser to etch artwork into a product permanently. Different materials produce different effected when engraved, such as shiny steel, natural etch or mirror finishes. Laser engraving is a stylish way to elevate and add value to your brand.
Silicone Debossing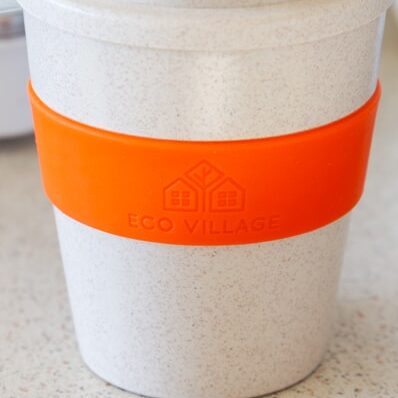 Debossing makes an impression of the artwork into the product. The brand becomes part of the product, permanent and dishwasher safe, keeping your brand in the public arena for longer. This is a sophisticated way to present your brand and has a higher perceived value than other forms of branding.
Silicone Digital Print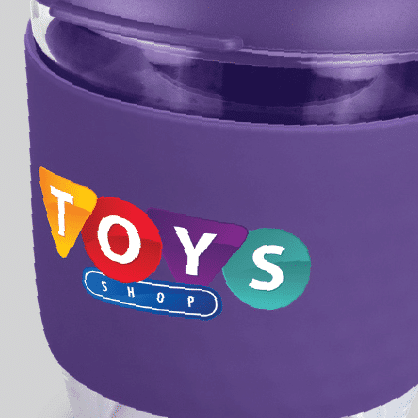 Silicone Digital Print is the pinnacle of branding on silicone, allowing for vibrant, full colour, high resolution artwork. Large print areas allow for maximum branding opportunities and the finished prints are vivid, eye catching and durable.
Sublimation Print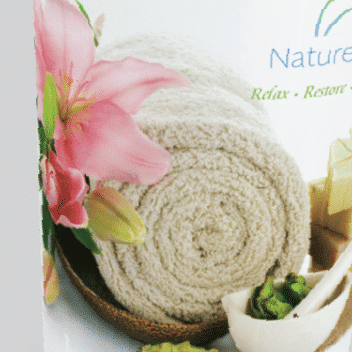 For a sublimation print process, special ink is printed onto transfer paper and heat pressed onto the product. Sublimation ink is a due, so the product as no ink build-up and the brand becomes part of the product. This branding method is perfect for producing full colour wrap around prints that really stand out.
These methods transcend mere branding; they elevate the cups into brand ambassadors, eloquently conveying a message that's both captivating and memorable.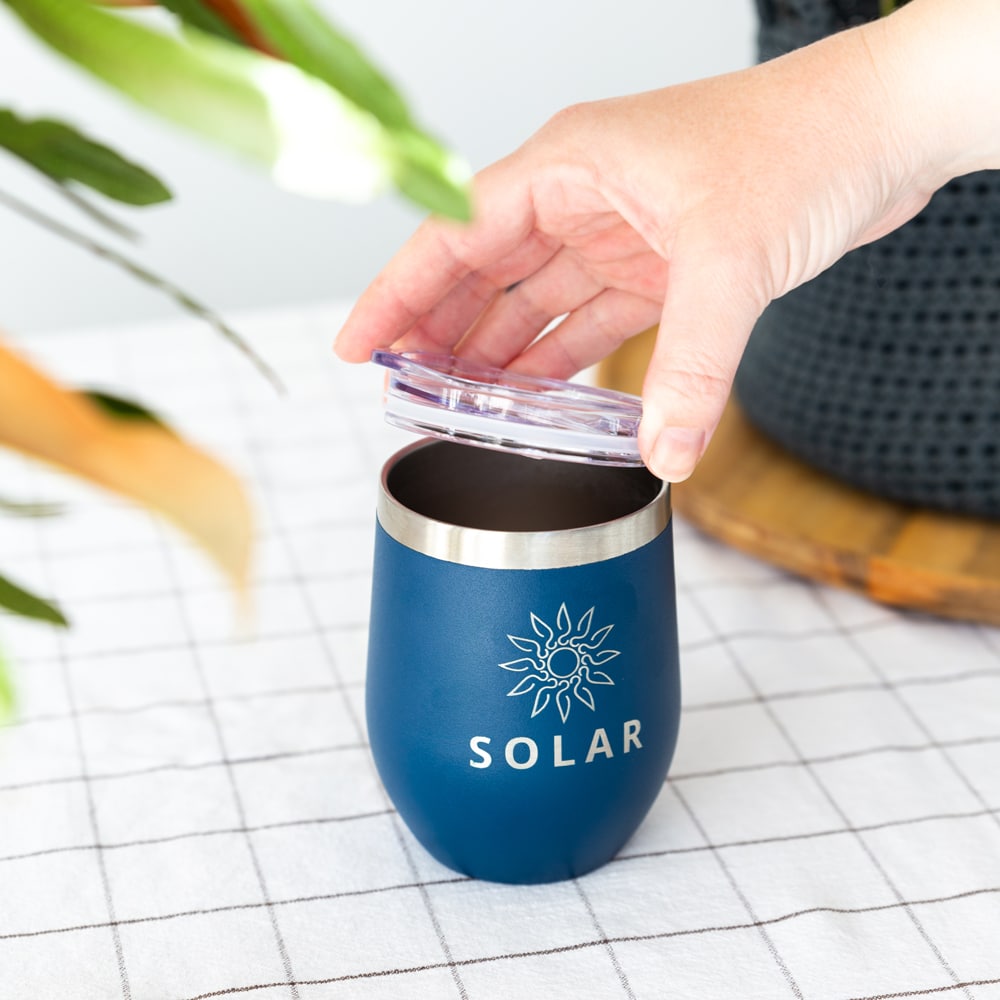 Branded Coffee Cups: Frequently Asked Questions
Here's a few of the regularly asked questions we receive regarding coffee cup printing:
Can I use multiple colours in my branded design?
Yes! Methods like Pad Print and Silicone Digital Print allow for multiple colours in your design. Screen Print and Sublimation Print are also great options for vibrant, multicoloured artwork.
Are branded reusable coffee cups dishwasher-safe?
Cups are dishwasher safe but the lifespan of the branding method used may be reduced. For instance, Silicone Debossing and Laser Engraving are permanent and dishwasher-safe. Pad printed and screen printed items are ok going through the dishwasher, it's just that the print won't last quite as long.
How can I ensure my branding remains intact over time?
Choosing permanent branding methods like Laser Engraving or Silicone Debossing can ensure your branding lasts. Additionally, providing care instructions to users, such as avoiding abrasive sponges, can help maintain the appearance.
What's the minimum order quantity for branded reusable coffee cups? There are no minimum order quantities required. However the print set up and shipping charges remain the same, regardless of ordering 1, 10 or 1000 - so smaller orders tend towards the pricy side.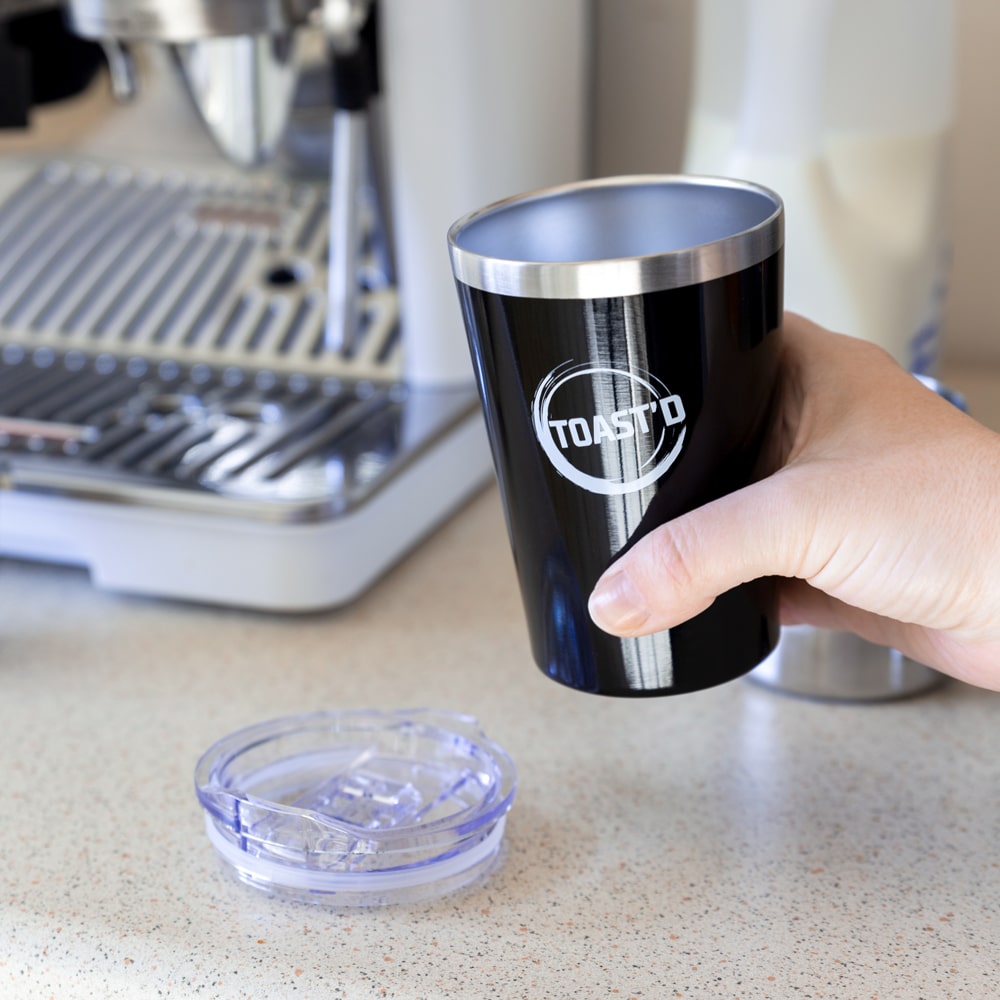 How do I begin the process of ordering branded coffee cups?
To get started, simply send us an enquiry through our website or visit us directly. Provide details such as the quantity of cups you need, your preferred branding method, and any specific design requirements.
How can I get a price quote for the branded coffee cups?
Once we receive your enquiry, our team will prepare a personalised quote based on the quantity you need. We strive to balance competitive pricing while providing high-quality products and personal service.
Can I see how my logo will look on the coffee cups before placing an order?
Absolutely! If we have your logo on file (or you send us a copy in vector format), we're happy to provide you with a free digital mockup to help you visualise how your branded coffee cups will look. This step ensures you're fully satisfied with the design before proceeding.
What is the typical turnaround time for printing branded coffee cups?
The turnaround time for coffee cup printing depends on the chosen branding method and the time of the year (the production team get very busy around Christmas time!). As a general guide, allow 1 to 2 weeks from the time of finalising the design and confirming the order. We can confirm a turnaround time once we've settled on the print method that suits your requirements.
How do I confirm my order once I'm ready?
Once you're satisfied with the quote and mockup, simply let us know you'd like to proceed by email or a phone call. If you have an account with us already, you will be invoiced once your cups are dispatched. If you don't have an account, we will organise an invoice or deposit prior to sending your cups into production.
Can I customise each coffee cup with individual names or messages? Depending on the branding method, individual personalisation may be possible. We recommend discussing this option with our team during the enquiry stage to ensure we can accommodate your specific needs.
What if I don't have my logo in the right format for printing? No worries! Our design team can assist you in preparing your logo for printing, ensuring it meets the necessary requirements. We're here to make the process as smooth as possible for you.
Are there any additional charges beyond the initial quote? Our quotes are comprehensive, covering the costs of the cups, branding, and other agreed-upon services. We believe in transparency, so there are no hidden fees. Any additional services or changes will be communicated and agreed upon before proceeding.
Browse our range of coffee cups and request a free quote for printing your coffee cups today. Visit our online Coffee Cup store now.